Coeur D'Alene Crane & Construction Services
















Who We Are
For more than thirty years, CDA Crane has been providing a range of crane and construction services throughout the Pacific Northwest. Our operators have decades of experience and are all fully licensed and NCCCO certified.* We pride ourselves on being among the most practiced and hardest working crews on the job site.
*We are committed to safety standards. Visit http://www.nccco.org/ for more information
---
Services
We maintain an extensive fleet of cranes and construction vehicles, including equipment specially engineered for the services we offer. Some of our most requested services include:
General Crane Services
Rigging and Signaling
Safety Consultation
HVAC Installation
Beam Launching
Machinery Transport and Placement
Truss Setting
Cell Tower Installation
Boat Hauling and Launching
Specialty Services
CFA Pile Drilling
Specialized Hauling
Temporary Bridge Installation
Bridge Construction
Custom Fabrication
---
History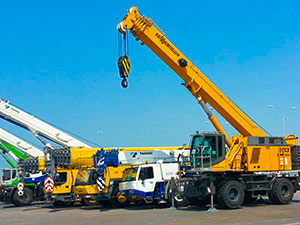 Originally founded in 1988 with a single 25-ton crane, we've grown to become the leading crane service in North Idaho. After more than thirty years Coeur d'Alene Crane remains true to its founding values of integrity, quality and hard work.
CDA Crane is a business built on trust. We've established our reputation by providing high quality workmanship, honest pricing and by paying close attention to the needs of our clients. The relationships we've built with the businesses and community in our area are among our most valued assets.
2016 - Acquired new lots and equipment to better service the Sandpoint region.
2003 - Built Lookout Pass Ski and Recreation Area's Southeast-facing chairlift. Alongside the Northwest-facing chairlift we would go on to build in 2006, our work has enabled Lookout Pass to more than triple in size.
1996 - Constructed Silverwood's Timber of Terror rollercoaster. This began a lasting relationship with the Northwest's largest theme park. Over the past twenty years CDA Crane has been responsible for building every rollercoaster and large attraction found at the park.
1988 - Purchased our first crane and began offering services throughout North Idaho.
---